Pohiri shares with us her experience of living with a disability.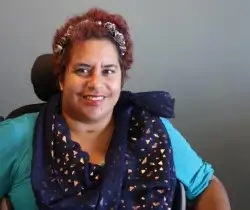 Pohiri is of Ngati Porou descent on her maternal side.  Pohiri refuses to be singularly defined as a disabled person, and is adamant that being disabled is only part of her identity.  She is a daughter granddaughter, sister, aunt and friend, first and foremost.  In many ways, the choices Pohiri has made as an adult reflect the principles of Enabling Good Lives, the model being introduced nationwide as part of the major transformation of disability support services in New Zealand.  Pohiri passionately believes in self-determination for disabled people and is committed to living an ordinary life like others in the community.    As Pohiri values her own space, she has lived in a one bedroom flat in Palmerston North for nearly a decade.  Initially, many people thought she would not be able to cope on her own living in a flat.   But for Pohiri living alone was simply one more challenge to contend with and overcoming challenges is something she is very familiar with.
Pohiri and her twin sister Ratahi were born to Mary Anne and Roger in 1984. While they were born in Gisborne, they were raised in Palmerston North.   Pohiri was the eldest of the twins by half an hour. Shortly after Pohiri and Ratahi were born, Mary Anne became very unwell and was unable to care for the new born babies.  Roger realised he needed support with raising the twins, so he and the babies moved back into his parents' home. When the twins were around 10 months old Ratahi reached milestones such as sitting and standing unaided, but Pohiri was unable to sit without being propped up against a wall or with pillows and did not attempt to try to stand like her sister, even with encouragement.   A few months later Ratahi started walking independently and Pohiri had made no further progress towards sitting up unaided.    This lack of progress concerned Roger and he sought medical advice which resulted in Pohiri being diagnosed as having Spastic Cerebral Palsy.    Pohiri was diagnosed as having muscles that are stiff and tight (especially when trying to move them quickly), making it difficult to move and reducing her range of movement when trying to get around.  Pohiri also had markers for scoliosis (curvature of the spine).  Pohiri believes initially that her father was surprised by the diagnosis, however, he quickly decided to seek out as much assistance for his daughter as he could, both medically and educationally.
Pohiri had her first surgery at the age of four, as her left hip kept dislocating out of its socket.  Pohiri remembers a long hospital stay as the medical staff tried to ensure the hip joint stayed in the socket. Pohiri and Ratahi attended West End Kindergarten where Pohiri received special assistance from a teacher aid.   She would encourage to Pohiri to continue to persevere with attempting things even when Pohiri wanted to quit.  Pohiri believes being taught this strategy at a young age has enabled her tenacity when completing things she finds difficult.  While at kindergarten Pohiri used a posterior walking aid (a stroller that provides weight bearing postural support with mobility that enables children to walk following the natural gait pattern).
Between the ages of 4 and 8 Pohiri had several more surgeries and more long hospital stays as medical staff tried several different procedures to knit the left hip joint into the socket to stop it from continuing to dislocate. These long stays in hospital meant she needed to participate in the hospital school which effectively was a teacher coming around to Pohiri's bed and setting lessons.
Unfortunately, the school lessons were not linked to any general curriculum and eventually Pohiri fell behind in her education. Falling behind educationally had a significant impact on Pohiri as her twin sister Ratahi moved up to the next year level as expected and Pohiri had to stay behind and repeat year 4.  This really upset Pohiri as she felt she had been parted from her best friend.   Pohiri believes teachers and other school staff then started to treat her differently – only Ratahi was given school correspondence to take home.  This frustrated Pohiri, as she was not given the opportunity to prove that she too could be responsible.  Pohiri and Ratahi were still close while at primary school, but being a year ahead of Pohiri meant Ratahi went off to intermediate a year before Pohiri.   Pohiri did not enjoy being separated from Ratahi as they had spent much of their breaks at primary school together.    When Pohiri did attend intermediate in both year 7 and 8 she experienced bullying.  A few children would deliberately startle Pohiri, so her body would visibly shake and show that she was startled.  Pohiri had her hair pulled and was called names.   While staff would attempt to quell the bullying, it continued to occur while she was at intermediate.  While in her final year at intermediate, it became very apparent to everyone that Pohiri was not able to bear weight as her muscles were too constricted.  It was decided that she would use a power chair.
Pohiri chose to attend Awatapu High School and is proud that she was a student in the special needs unit.  Pohiri made friends (by that time her sister was at a different high school) and enjoyed most classes.   There were times that Pohiri experienced being bullied as well as being purposely isolated by some students, but she had supportive teachers who stepped in and ensured the bullying was stopped.   While in year 12 and only a few weeks away from sitting end of year exams, Pohiri had to travel to Starship Hospital and had a Harrington rod placed in her back to limit the scoliosis of her spine.    While the surgery went well, the recovery time was long, but the rod did straighten out and stabilize her spine.  However, it now means that Pohiri is unable to sit naturally and this further limited her ability to bend which even today is something she struggles to cope with.
During her final year of high school CCS helped Pohiri to plan her transition out of school.  Pohiri was able to express that she wanted to move out of home and have a more regular daughter-father relationship than her father being a carer for her.  Ratahi had already finished high school a year earlier and had moved out of home.   Pohiri also knew that she wanted to study further when she left high school.   In 2004 with encouragement and support from her family and CSS, Pohiri moved into an established flat with another disabled person. As with all first time flatters, there were things Pohiri had not quite been prepared for,  such as how rigid the funded support hours were and what happened if the support person did not turn up.  But with support from her flatmate and CCS she managed these issues.   Pohiri also decided to start attending Te Wananga.   She really enjoyed going to the campus to study. She studied Tikanga (Matauranga Maori) up to level 4 over a two-year period.
In 2006, Pohiri decided to put further study on hold as she was unsure of what area she wanted to study next and Te Wananga campus moved a significant distance away and Pohiri was no longer able to get to the campus via her power chair.   Pohiri later moved into her own flat and found that she actually enjoys not having to share with anyone!  Much of the time her supported living package works well and suits her lifestyle. Pohiri commented that she has achieved the father- daughter relationship she always wanted with her father, as he is no longer her carer.   On further reflection, Pohiri is glad she  lived with her grandparents for several years when she was young  as this helped cement a strong bond with her grandmother who she still sees regularly.  While Pohiri and Ratahi keep in close contact, Pohiri seldom sees her sister and family as they live in Australia.
Presently, Pohiri is involved with her church community, having been previously involved in the CCS local advisory committee and organising the craft group for several years. Pohiri is very happy living her everyday life.