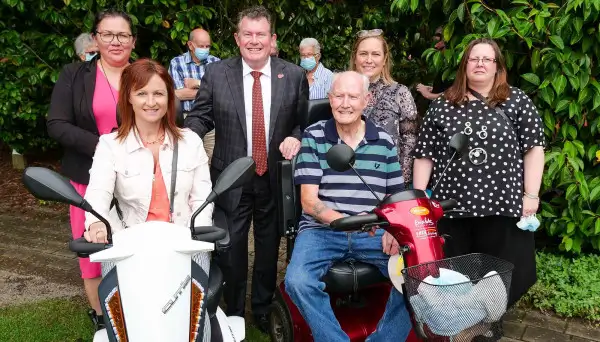 From left: Michelle Riwai – General Manager, Enable New Zealand, Karen Naylor – Palmerston North City Councillor, Grant Smith – Mayor of Palmerston North, Brian Jeffares, Andrea Crutchley – Business Development Manager, Enable New Zealand, Kelly Cribb – Retail Assistant, EASIE Living.
Everyone deserves the opportunity to enjoy the Manawatū River. That's why we're proud to have worked with local man Brian Jeffares, the Palmerston North City Council, and local retirement village Olive Tree to make two mobility scooters available for use by the river and at Victoria Esplanade free of charge.
The scooters, one of which is on long term loan from our EASIE Living store and the other sponsored by Olive Tree, are based at the Lido Aquatic Centre and are now available for use by anyone who needs them.
The idea was the brainchild of Brian who was inspired by the mobility scooter hire scheme at New Plymouth's Costal Walkway.
"Brian approached our EASIE Living store to let us know he was planning a pitch to the Palmerston North City Council for the mobility scooters, and to ask if we would like to support it," says Andrea Crutchley, Business Development Manager at Enable New Zealand.
"We thought it was a brilliant idea and were excited to help make it happen."
Palmerston North City Council also thought it was a great idea, and agreed to support servicing of the scooters, with the team at the Lido taking on the task of storing, charging, and loaning the scooters to the public
"The Palmerston North City Council were key in making the idea a reality with Aaron Phillips, Senior Property and Parks Officer, working with Brian, Olive Tree, and our EASIE Living team to get the plan off the ground," says Andrea.
This is EASIE Living's second long term scooter loan in Palmerston North, with one also available from the i-SITE in The Square.