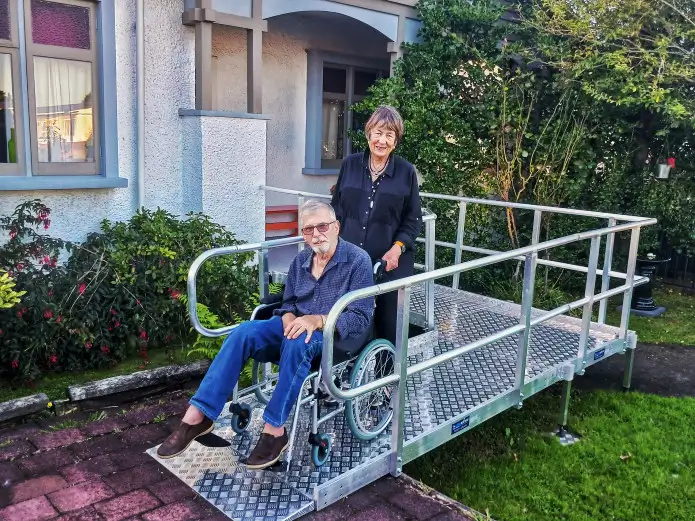 Tim and Judith demonstrating Tim's new "Harbour Bridge".
At 73 years old, Tim is still out fixing things around the house. It has not always been smooth sailing for the retired painter and decorator but the innovative addition of a "Harbour bridge" in his Whanganui home keeps him active.
"I was diagnosed with Parkinson's after retiring," says Tim. "It took a year, but I came to the decision, if this is Parkinson's, I can cope."
Born in Finland but living in Sydney, Tim had a love of travel he with his good friend Judith who lived on the other side of the ditch in New Zealand. In 2018 Tim went to Whanganui to visit Judith and celebrate his 67th birthday and Christmas.
"I noticed how restless Tim seemed throughout the night," says Judith. "I could hear his bed squealing and creaking".
"At the restaurant that evening I could not keep my food neatly on my plate," says Tim. "I certainly could not be trusted to serve myself from the buffet. The next morning Judith took me to A&E at the local hospital".
"I could hear Tim's bed squealing and creaking. By the end of the day it was very apparent that something untoward had happened," says Judith. "First thing next morning, we turned up to the hospital at A&E."
Doctors found Tim had experienced a stroke, which was affecting his speech and the right side of his body. Now a part-time wheelchair user, Tim moved to New Zealand and Judith decided to become his full-time caregiver Although his mobility and speech have been dampened by the stroke, Tim remains positive and determined.
"I am still able to do small painting jobs around the house. I like fixing things," says Tim.
The transition from being independent to needing full-time support was a struggle at first. He was able to make it out to the back deck by himself, but he could not head out the front door to the footpath without needing help.
With support available from Enable New Zealand on behalf of the Ministry of Health, (now Whaikaha – Ministry of Disabled people), a plan was developed to install a bridge. Built from the front porch and out across the lawn, the bridge connects the house to a parking pad and so out to the public footpath and road. The front lawn is lower than the road.
"Tim created his own circuit," says Judith. "When he feels steady enough to use his walker, off he goes. Over the bridge, out to the footpath, across the front of the house, back through the small gate. He checks the mail, down to the bird feeder at the bottom of the garden and then all the way back again. Once he reaches the bridge, on a good day he will use the rails to walk that last three or four metres.
"The bridge has helped us keep up with appointments. and it has become easier when we head out," says Judith. "We tie balloons on it for new year's and call it our own Harbour Bridge."
"We really enjoy getting out and, for a short while, being part of life on the street," says Judith. "We try and take each opportunity we can get to enhance our life because if we don't take it, we may or may not be given it again."
Tim has his own considered advice. "Like the girl with a curl, when it is bad, acknowledge that it is so, but when it is good, enjoy every little bit. Tomorrow is another life."